By Tom T.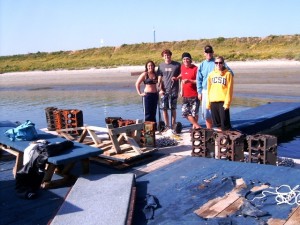 On April 26, 2006, two flat bed trucks, one crane, and approximately 15 water-skiers descended upon Hidden Anchorage. It was to be the birthday of the dock. With an unfavorable tide that was receding fast, the crane operator was able to lift the sixth and final dock section from it's resting place on the flat bed and lower it safely into a few inches of the quickly receding tide. It was a close call.
Once in the water, the six sections were floated into place. Several weeks earlier, three anchors made up of V-8 engine blocks with ½" – 316 stainless steel chain attached had been dropped into place. I don't recall any of us having previous dock assembly experience. After that day, all of us were quite experienced. I think the entire group left that afternoon with a proud swagger in our steps.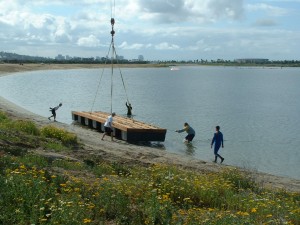 Two weeks later, on May 13th and 14th, what seemed like a company of volunteers, proceeded to drill, cut, measure, and screw down decking boards. I never would have estimated that it would require two full days to accomplish the task.
The Ski Team was on its way to having a brand new start dock.
So when the last week of April rolls around each year, it's the dock's birthday.